Cotbed Fitted Sheet
£84.00
This fitted sheet looks lovely on the cot if you favour putting your little one in a grow-bag. If you want something that looks a little bit special, this makes the cot feel a bit more dressed.
Our Cotbed Fitted Sheet has the embroidery at the bottom of the sheet.
Dimensions: 70cm x 140cm x 10cm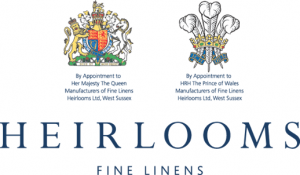 About Heirlooms
Heirlooms began manufacturing bespoke linens at their workshops in West Sussex, England, in 1984. Over thirty years on, they remain true to our founding principles, combining the finest materials and traditional craftsmanship to create linens of exceptional quality and lasting beauty.
Heirlooms work with private clients on five continents, and have longstanding relationships with the world's leading yacht builders, executive jet manufacturers, interior designers, property developers and boutique hotels. They also have many years' experience of creating bespoke linens for the British royal family, and hold Royal Warrants from both Her Majesty the Queen and His Royal Highness the Prince of Wales.